For this week's installment of Blow The Whistle, we move east. And here we find mediocre Midwest rapper Cornell Haynes Jr.,better known as Nelly.The King of St. Louis, Missouri. No doubt, he has had hits. I'm talking, HITS. Multi platinum albums, energy drink endorsements, television shows, Grammy wins, two clothing lines and technically the fourth best selling rap artist in American music history. Outstanding! So why is he on this list? He has to have some type of major following, right? I know a lot of people, but I have yet to find a friend of mine with a Nelly download, bootleg or actual CD. His music is like crack, the shit is getting sold but nobody knows who's buying it. And I won't dare say he's wack. But mediocre…Absolutely.
Nelly debuted in 2000. Brand new dude, from a town not yet discovered. Plenty of style, a million dollar smile and a stupid Band-Aid. He threw the world for a loop with "Country Grammar". A slick, sing-songy tune that had many comparing him to Bone Thugs-N-Harmony at the time. Well, at least I did. However, this tune was full of pistol play, drug talk and an ironic shout out to fellow Blow The Whistle alumni Too $hort.
"I'm born to mack like Todd Shaw" for the slow ones.
The stage was set. He was brand new and had the world itching to see if it was a fluke or the truth. He struck right back with "E.I".  Now, I don't know how old you are, but I bet you spent a night or two in a sweaty club yelling this hook, grinding on an unmentionable.
"Andale, Andale, mami, E I, E I, uhhh ohhhh
What's poppin tonight."
What does that mean?
Now tell me an actual lyric from this joint.
I'll wait.
But I digress, The hits continued into the second album. Where Nelly introduced Nellyville, which included the bona-fide classic "Hot in Herre". Second album, Neptune production….this nigga outta here. And he was. Old school rhythm, courtesty of Chuck Brown, catchy hook, Nelly was on a wave.
"Girrrl I thank my butt getting bigg".
Booooo.
Striking back with follow up singles, Dilemma and Air Force Ones, Nelly was winning.
But this same album also contained the downslide.
And if you guys fucked with this tune, we are probably not friends.
This shit. Is absolutely. Horrible. The true sign of an artist feeling himself is the notion to throw anything to the public because, "hey, they fuckin with me anyway". This is the proof. During this time he also decided to introduce his weed carriers, homeboys, The St. Lunatics. Which included Murphy Lee, Ali, some other guy, and some dude who wore a mask and danced. Whoever that guy is, he is the equivalent of Crunchy Black to Three-Six Mafia.
Also around this time, Nelly ran into a scrimmage, with KRS-One. Of course Nelly got more spins because of his popularity and the radio and media's affinity to embrace the new and fuck the old. But, in layman's terms, it would appear that Nelly SLAYED KRS-One in a battle…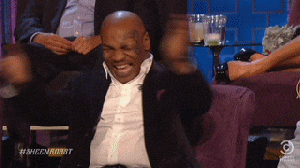 Get the fuck outta here.
Now I could have spent a lot of time here, but I think the laughing Mike Tyson, speaks for itself.
So anyways, the cracks were showing and the legacy of Cornell continues.
He followed up with a third album, which was a double album. Aptly titled Sweat and Suit. I guess to create
"Sweat Suit". Or "Suit Sweat".
"Sweat" contained such shitty singles as "Flap Your Wings", "Tilt Ya Head Back" and "Na-Nana-Na".
Suit  contained the singles, "My Place" "Over and Over" which featured Country Music superstar Tim McGraw, and "N Dey Say".
I don't know any of these songs. I guess , I probably heard "Over and Over", somewhere, but that shit moved me, in no other way, than to persuade whoever is playing it…to turn it off.
The double album was followed up with 2008's release of Brass Knuckles. This album featured singles, I would bet dollars to donuts, that no one remembers. "Wadsyaname", "Party People" "Stepped on My J'z"? Anybody?
Me Neither.
So from here the downward spiral into mediocrity continues, lyrically. But, Nelly's career has continued to see more brighter days than dark, due to his marketing appeal. He has a permanent position on Kevin Hart's "Real House Husbands of Hollywood", his own reality show with " Nellyville" and also still achieving radio success with , new age country duo, Florida- Georgia Line with "Cruise".
Now the question is begged, is Nelly the artist to bridge the gaps between different genres of music? Or is he the token of the day?
You decide.
As far as his strong points. Nelly has found a way to remain relevant. From his on again-off again relationship with Ashanti, to his friendship with TI, to his role on Kevin Hart's show. Nelly is also responsible for such musical atrocities from St. Louis as Chingy and J-Kwon. Maybe not totally his fault, but there is no way they would exist, if there was no Nelly.  So therefore, a legacy is legitimized. He will not allow you to forget him.  So you can either drop down and get your eagle on, grab yourself a pimp juice, eat a bowl of cheerios,  or simply take off all  you clothes due to the temperature. Nelly is a real, relevant remaining factor in this genre of music.
OK……. Derrty?